Welcome to St Andrews Uniting Church Glenbrook
At St Andrews lives are changed through worship, learning, and community. People are empowered to change the world and make it a better place, following the example and teachings of Jesus.
We are a socially conscious and open congregation seeking to nurture faith. We welcome everyone. We journey together in creative and inclusive ways, exploring questions of faith and life in today's world.
St Andrews hosts a range of different social, creative and justice-focused groups. Check out our Facebook page for information on upcoming events.
Click here to find out more about Worship at St Andrews
Our Minister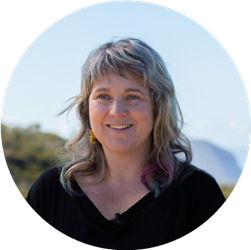 At St Andrew's we work in collaboration with our part-time Minister Rev. Ellie to support the life and ministry of the church. We celebrate and affirm that God has gifted the church with diverse people and passions who are called to build up one another in faith and be the hands and feet of Christ in the world.   
Rev. Ellie Elia has a background in Dramatic Arts, and desires to inspire and encourage spiritual imaginations in all people. She is passionate about seeing the Church be a truly intergenerational, hospitable and generous community that makes a real difference in the world. Ellie is married to Andrew and they have two sons, Joshua and Micah.